T-Mobile's new promotion will enable qualified customers to get 50% off HTC smartphones
0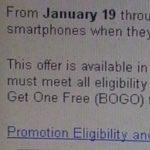 Naturally, there are many portals available at the disposal of customers when it comes down to shopping around for a smartphone. But sometimes, you'd probably prefer heading down to your local carrier store as opposed to trudging the beaten path of buying one online through a third party vendor.
If you happen to be a T-Mobile customer who dreams constantly about all of the carrier's available HTC smartphones, then you're in luck because a new promotion is aimed right at you. Based on a leaked internal document, it seems like T-Mobile will be commencing a new promotion regarding HTC smartphones starting on
January 19th
. The details for this upcoming promotion mentions offering qualified customers to receive
50 percent off
the purchase of any of their HTC branded devices with a 2-year agreement and the mandatory selection of an Unlimited Web plan.
Basically, you'll need to be on an Individual or Family Plan Even More/Legacy Plans to quality – however, Even More Plus plans are not eligible with the deal. Once you've got squared away, you will have to purchase the HTC HD7, T-Mobile G2, T-Mobile myTouch 4G, or the T-Mobile myTouch 3G Slide with a 2-year contract. Finally, you'll need to slap on that Unlimited Data Plan to your account under the phone you're purchasing.
Once you're got all of those requirements out of the way, you'll then be qualified to get that $100 Visa Gift Card – which ultimately gives you 50% off since all of those smartphones are priced at $200. Luckily, you'll have time to make your decision since the promotion will be running from January 19th all the way through March 8th. However, not
all
states are participating in this promotion – so if you live in Connecticut, Rhode Island, or Dade County Florida, you're out of luck and will have to look elsewhere.
source:
TmoNews