T-Mobile's Personal CellSpot hands-on
17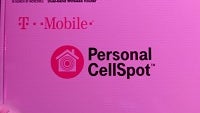 T-Mobile's Un-carrier 7.0 announcement was filled with a lot of great announcements, keeping Team Magenta two or three steps ahead of the competition in some ways.
While many of the announcements broke new ground for the American wireless industry, one of them arguably did not, but it still generated a lot of buzz, in part, due to the presentation as only T-Mobile CEO John Legere can do, but also because the price is ridiculously low.
T-Mobile is offering its customers their very own personal T-Mobile cell site. This concept is nothing new, and other carriers offer their own versions of the same product, albeit at an additional cost. Built by ASUS, the Personal CellSpot is a router with Wi-Fi calling capability. That too, is not necessarily new either.
The CellSpot gives voice traffic priority over other data streams to ensure HD-voice quality. Indeed, even that is not new, there is a long established protocol for Voice-over-IP, and ensuring Quality-of-Service (QoS), without which, it is common to hear stuttering and jittering in one's voice. In fact, even with QoS turned on, such phenomena can be experienced if the settings are not correct or if the network is congested.
No, what sets the T-Mobile Personal CellSpot apart is that carrier developed its own software to ensure a higher level of QoS above the standard, and the fact that the device is free to customers – okay it is not totally free, there is a $25 deposit. If you want to buy it outright, it is only $99. There is no extra charge to use it. Plus, the Personal CellSpot will support T-Mobile's newly announced VoLTE-to-Wi-Fi hand-offs, an industry first.
Not only does it enable all the T-Mobile features a-la the old days of UMA, but it in all likelihood upgrades your home router anyway. Supporting 802.11 a/b/g/n and ac Wi-Fi standards, MIMO, and it is dual-band. It also packs four gigabit Ethernet ports, plus a 1 USB 2.0, and 1 USB 3.0 port.
The set-up is meant to be as painless as possible, and T-Mobile will provide all the necessary support. The Personal CellSpot should provide enough coverage in a house up to 3,000 square-feet, and assuming you do not live in a Faraday cage, will probably be adequate to cover some of your back yard as well.
For those wondering if the router is an open or shared signal, it is not. The set-up affords the user the ability to secure the SSID through the usual means, plus settings on the Personal CellSpot can be managed from your smartphone too.
What do you think? In addition to adding Wi-Fi coverage in general, does T-Mobile's Personal CellSpot give you the coverage you want in and around your home? For the money, you would be hard pressed to find an equally capable home router that also gives you full coverage for all your T-Mobile services.