T-Mobile to say goodbye to myFaves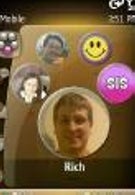 Thanks to its' new "Even More" plans which offer unlimited voice, texts and data, T-Mobile has decided to phase out the myFaves program. The myFaves plan allowed each T-Mobile customer to pick 5 phone numbers that the customer would get to call on an unlimited basis. The plan-based on Alltel's "My Circle"-proved so popular when it debuted in 2006 that other carriers copied it. Both Verizon and AT&T introduced calling circles with unlimited calling features, and Sprint now has "Any Mobile, Anytime" which allows for unlimited calls to any phone at anytime for a monthly charge with no restrictive calling circle.
"Our new Even More plans, which feature options for unlimited calling,text and data service, have taken the place of our myFaves unlimitedcalling feature," T-Mobile said in a statement. In October, the nation's fourth largest carrier started its' new plans. The "Even More Plus" has no contract and offers unlimited voice, data and text for $79.99 per month. The "Even More" plan requires a 2 year contract and in return, offers a subsidized phone. For $59.99, the carrier offers unlimited voice calls.
Those who currently use myFaves will still get support for it from T-Mobile. The carrier's portfolio of handsets will still include the myFaves home screen so that T-Mobile customers can connect quickly to them using voice, text or email.
source:
FierceWireless