T-Mobile to reveal Un-carrier 11 on June 6th
12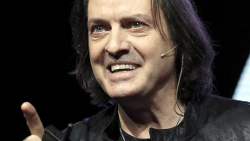 T-Mobile, which has turned itself from an afterthought into the nation's most innovative carrier, will be unveiling its next big idea on June 6th when Un-carrier 11 is introduced. T-Mobile customers are invited to listen to view the live stream, which will take place starting at 1pm Eastern Time (10am for you 'left coasters'). The feed will be available on T-Mobile's YouTube, Facebook, and Twitter accounts, and from T-Mobile's own website.
The last Un-carrier promotion introduced by T-Mobile took place in November
with the introduction of Binge On
. This feature allows T-Mobile customers to stream video from certain providers without employing the customers' own data. Videos are streamed at DVD speeds (480p) and customers have the ability to disable the feature.
In case it ever comes up at a dinner party or when you're a contestant on a TV game show, the very first Un-carrier feature was unveiled in March 2013 and introduced the no-contract Simple Choice plan. This plan offered unlimited talk and text with 500MB of high-speed data for $50. Customers could pay more for 2.5GB or unlimited high-speed data.
Since Un-carrier 1.0 was announced, T-Mobile has surpassed Sprint to become the nation's third largest carrier. With its edgy advertising and a CEO in John Legere who has become a social media celebrity, the wireless operator has arguably become more relevant than its larger rivals.
For more information, and to view a countdown timer, visit T-Mobile's Un-carrier 11 website by clicking on
this link
.

Un-carrier 11 will be unveiled by T-Mobile on June 6th
source: T-Mobile