T-Mobile to introduce unlimited plans on April 13th?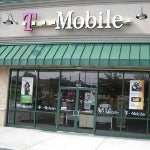 A leaked screenshot reveals the intention of T-Mobile to add an unlimited voice, text and data plan to the carrier's lineup. Starting April 13th, the "Truly Unlimited Data + Talk + Text" plans are expected to be available. Even More customers who buy a subsidized phone and agree to a 2 year contract will be able to buy a $79 per month plan. Those bringing their own compatible phone and have no contract to honor, can sign up for just $59.
There is a catch. Remember, the word "unlimited" has nothing to do with speed. If you exceed 2GB of data usage in 1 month, your network speed will be throttled lower. And there is one last thing. The Unlimited plans are good for individual accounts only, no family plans can apply.
source:
TmoNews