T-Mobile survey finds mobile devices bring families together, not apart
6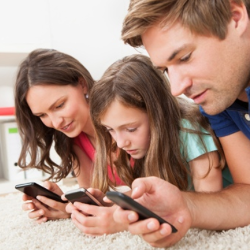 These days, mobile devices have become a scapegoat for breakdowns in parent-children relationships. How many times have you seen a father or mother scold a child for using his or her phone or tablet at a time that the parents considered to be inappropriate? But a new survey taken by ORC Caravan for T-Mobile is revealing something different. Surprisingly, 70% of parents said that mobile technology is bringing their family together.
The 70% of parents who responded favorably to the survey said that smartphones and other forms of mobile technology enable them to communicate to their kids via text, email, voice call and social media. 48% of the parents said that their families enjoy speaking to each other via group texts. The most popular of the social media apps is Facebook, which was named by 54% of parents as the social media platform they use to communicate with their children. That beats out the 23% of moms and dads that use Snapchat to stay in touch with the little tykes, and the 22% that use Instagram.
So who consumes the most data each month, parents or the kids? 70% of the families on a shared data plan say that at least one person in the family is a data hog. 51% of the families that have a data hog say that it is a kid emptying the family data bucket each month, while 40% of the data hogs are the parents. The remaining 9% are relatives like uncles, aunts and cousins.
Here is a bit of a shocker. More dads use their handsets to keep track of the kids versus 20% of the mothers. And smartphones are becoming this generation's photo albums. 70% of parents use their handset to take more pictures of their children, and as many as 13% forget about their kid's birthday until a reminder pops up on their phone.
What would you sacrifice in order to have a full month of communications with your kid? According to the survey:
41% said they'd give up alcohol
A full 40% would give up retail shopping
2 in 5 would give up dessert (37%)—even chocolate (37%)
Nearly one quarter (23%) would give up sex
1 in 5 (20%) would give up internet access
1 in 10 would actually give up their house (11%) and/or their car (12%)
The study included 1,014 individuals, and one-in-four of them have complained to their carrier about the taxes and fees added to their monthly bill. 10% admitted to crying over shock overages on their invoice. Of course, T-Mobile says that it has the solution with T-Mobile One. This is the plan that offers unlimited talk, text and data. Opt in to AutoPay, and taxes and fees are included in the price. Two lines are just $100 a month. With T-Mobile One, there is no more crying! For more information, click on this
link
.
source: T-Mobile