T-Mobile says BlackBerry Z10 more stable than anticipated, could launch ahead of schedule
8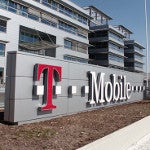 The device is more stable than we anticipated. If we are able to speed up the launch date, we will do that. Right now it's looking like mid-March.-Frank Sickinger, T-Mobile head of business sales
For those statesiders who had been feeling left out having to wait until the end of March for the
BlackBerry Z10
to launch, we have some great news. Frank Sickinger, who is T-Mobile's head of business sales, told Bloomberg on Thursday that the all-touch Z10 is
more stable
than the carrier anticipated. That means that the testing won't have to be as time consuming as thought and the nation's fourth largest carrier is now aiming at a
mid-March
launch of the BlackBerry Z10.
Yes, we realize that is cutting just two weeks off the previous late March launch that was being discussed earlier, but the device has already launched in the U.K. and Canada and nothing is going to change that, so you might as well just be happy for the extra weeks you will get to spend with the device. And those who have been wondering about the Canadian firm's commitment to the U.S. shouldn't fret. The country to the south of Canada remains the focus at Waterloo, especially since the U.S. remains the number one market in the world for BlackBerry devices. While testing on U.S. carriers is more rigorous, what we all would never want to see or experience is a repeat of the
BlackBerry Storm
launch.
T-Mobile is going to sell the BlackBerry Z10 for
$199.99
with a signed two year contract and could help the operator grab some enterprise business away from the other carriers. The T-Mobile-BlackBerry relationship appears ready to be solidified this year. T-Mobile's Sickinger put an exclamation mark on that thought when he said, "
I'm glad to see BlackBerry launch a relevant product. BlackBerry stands to do very well in 2013 with T-Mobile
."
source:
Bloomberg