T-Mobile continued to grow faster than Verizon, AT&T and Sprint in the second quarter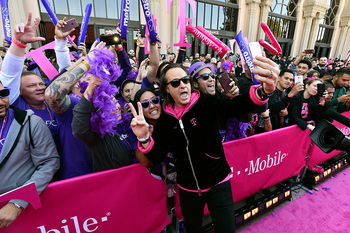 T-Mobile continues to be magenta-hot. For the second quarter that ran from April through June, the carrier crushed Wall Street expectations by reporting postpaid branded phone net additions of 686,000 subscribers. That figure was 48% ahead of analyst's expectations. This was the 18th straight quarter that T-Mobile led the industry in that important metric. Postpaid branded phone churn was a record low .95%, 15 basis points lower than last year's second quarter number. T-Mobile reported total branded postpaid net additions of 1 million subscribers, and 91,000 branded pre-paid net additions. Overall, the company added 1.6 million net additions, the 21st consecutive quarter that T-Mobile topped 1 million subscribers in this category.
Total revenue rose 4% to $10.6 billion, while service revenue was $7.9 billion for a gain of 7.9% year-over-year. Net income, at $782 million, rose 35% from last year's Q2 and resulted in earnings per share of 92 cents. The positive results allowed T-Mobile to raise its forecast for branded postpaid net additions to a range of 3.0 million to 3.6 million for all of 2018.
Wall Street liked the report, sending T-Mobile's shares up 1.47% or 87 cents after-hours to $60.23.

source: T-Mobile