T-Mobile tops its rivals once again during the fourth quarter
5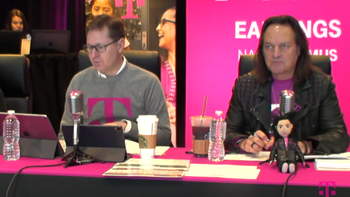 In addition, T-Mobile reported 135,000 branded prepaid additions during the quarter, expected to be the best figure in the industry. For all of 2018, T-Mobile added 460,000 new branded prepaid additions. During the fourth quarter, T-Mobile 2.4 million net new subscribers joined the carrier, and 7 million net subscribers were added to the company's rolls for all of 2018. Fourth quarter branded postpaid phone churn was a fourth quarter record low .99%, down from 1.18% during the same period last year. For all of 2018, postpaid phone churn was 1.01%, down from 2017's 1.18%.
During the fourth quarter, revenue rose 6% year-over-year to $11.4 billion. During 2018, T-Mobile took in $43.3 billion in gross, up 7% from the prior year. Net income for the quarter was $640 million and $2.9 billion for the whole year. Excluding the impact of the Tax Cuts and Jobs Act in 2017, those earnings were up 21% for the quarter and 22% for the year.
T-Mobile says that it will launch nationwide 5G starting next year, and has deployed its low frequency 600MHz spectrum in over 2,700 cities and towns. It now offers 29 devices that support the band. T-Mobile covers more than 325 million Americans with its 4G signal, and for the 20th consecutive quarter, it had the fastest 4G LTE data speed according to Ookla, developer of the Speedtest.net app.
"This never gets old! T-Mobile finished another year with record breaking financials and our best-ever customer growth! Record revenues, strong net income, record Adjusted EBITDA, our lowest-ever Q4 postpaid phone churn that was better than AT&T for the very first time!. T-Mobile is competing hard and winning customers - and we continue to deliver results beyond expectations. Our 2019 guidance shows that we expect our incredible standalone momentum to continue!"-John Legere, CEO, T-Mobile
Investors loved the report, sending T-Mobile's shares up 2% to $68.28. The company is awaiting final regulatory approval to close its proposed merger with Sprint, which both companies believe will happen sometime during the first half of this year.