T-Mobile remodels roughly 400 stores to offer customers an improved shopping experience
7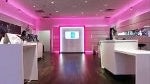 Cell phones simply don't sell themselves, but rather, it takes a really good employee to win over a customer's trust and business – though, a smooth talker can definitely get things moving in the right direction. But even before that first interaction can occur, customers need to be attracted to something within a retail store to get things rolling.
Well, it seems that
T-Mobile
has been studying the fine art of perception as the number four wireless carrier in the country remodeled roughly
400
of its retail stores. No, they're not merely shuffling things around, but instead, they're adopting the design format established by stores from its parent company – Deutsche Telekom AG. Essentially, the stores provide customers with a totally new and refreshing retail experience by grouping devices and respective accessories together – thus, providing customers and employees that maximized approach.
Senior director of store development with T-Mobile USA, Daniel Coates, said, "
With the continued complexity of wireless choices, T-Mobile is always looking to help simplify the consumer retail experience and make it more personal for each customer. While we've continually been honored for our customer service, we have found ways to make the shopping experience even better with this new design.
"
All in all, the remodeled stores definitely have a cleaner and brighter appearance than before – making them a bit more conducive and friendly looking for both parties. To celebrate the remodeling, there are many stores holding promotions and local events to celebrate the new store design on October 5th. Check out the video below to see the transformation.
source: T-Mobile