T-Mobile rang up 20% of Apple iPhone 6, iPhone 6 Plus pre-orders from U.S. carriers
13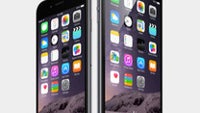 T-Mobile's U.S. subscribers love the
Apple iPhone 6
and the
Apple iPhone 6 Plus
. We can reach that conclusion by looking over some pre-order stats. From September 12th through the 14th, T-Mobile's customers were responsible for 19% of iPhone 6 U.S. carrier pre-orders, and 20.1% of iPhone 6 Plus carrier pre-orders. Overall, 20% of the iPhone U.S. carrier pre-orders during that time period came from T-Mobile customers.
The 20% of iPhone pre-orders it was responsible for, is above its overall U.S. market share of 16%. And you also have to remember that the heavy demand for both phones took place while many T-Mobile customers were having problems entering pre-orders. The morning that T-Mobile started taking reservations for the iPhone 6 and iPhone 6 Plus, John Legere's Twitter page was loaded with requests for help.
The rest of the figures for the U.S. pre-order period saw AT&T score some massive numbers. As you probably remember, for over three and a half years, the iPhone was an exclusive to AT&T in the states. This surely had a lot to do with the 47.4% share of iPhone 6 carrier pre-orders that came from the nation's second largest operator. The latter was also responsible for 53.8% of iPhone 6 Plus pre-orders.
Verizon offered its customers a trade-in plan that could have resulted in a free Apple iPhone 6 for those trading in an older iPhone model. That helped the operator grab 28% of the U.S. carrier pre-orders for the 4.7-inch model, and 21.2% of reservations for the 5.5- inch phablet. Sprint had a tough pre-order period. Even though it rolled out cheaper plans specifically for iPhone 6 buyers, only 5.2% (iPhone 6) and 4.9% (iPhone 6 Plus) of U.S. carrier pre-orders came from Sprint subscribers.
Overall, 85% of the pre-orders resulted from someone upgrading to a new iPhone model. 36.2% upgraded from the
Apple iPhone 5
(two-year contracts were expiring left and right), while 32.6% upgraded from the
Apple iPhone 5s
. Those that left the
Apple iPhone 4s
behind for a new iPhone, accounted for 8.7% of the pre-orders. 4.4% of the new iPhone models reserved came from those who upgraded from the
Apple iPhone 4
, while 3.3% came from
Apple iPhone 5c
owners.
"Outside of Cupertino, the big winner of the iPhone 6 launch was T-Mobile, which managed to capture about 20% of all pre-orders opening weekend, outperforming its market share. T-Mobile's grab of these consumers is an indication that their aggressive switching campaign is gaining traction — especially considering that about [one-third] of pre-orders were upgrading the iPhone 5s, which came out less than a year ago and would have been tied to a contract."-Kanishka Agarwal, chief data officer, Slice Intelligence
source:
RCRWireless
via
TmoNews