T-Mobile promo offers four lines with 10 gigs of data each for $120/mo
26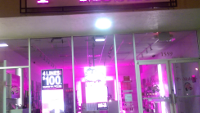 T-Mobile's rise in recent years has been thanks to the disruptive nature of its business model. Various plans and offers, including the 'Un-Carrier' initiative, have seen T-Mo gather a strong army of apparently loyal users. Indeed, the last we heard, the firm led by John Legere was
outdoing AT&T, Sprint and Verizon
in terms of subscriber growth. To keep users interested in signing up, T-Mobile is reintroducing its '10 Gigs for All' promotion, which offers four lines with 10 GB of data apiece for $30 each per month.
Touted as
"the best plan for families that love data but don't love to share,"
the limited-time offer also includes unlimited call and texts. For a total price of $120 per month, it's a novel way for T-Mo to tie whole families into its business, while the consumer gets a very competitive package.
10 GB is a fair amount of data for the general smartphone owner and should cover a month's use of Web browsing, Candy Crushing and any other app or activity that doesn't involve heavy amounts of download / streaming. Should more be required though, T-Mo customers can top up a line by 10 GB for an extra $10 per month.
It has been suggested that in the long run, T-Mobile's cheaper deals won't be sustainable, something that Legere was quick to rebuff earlier this year. Sprint CEO Marcelo Claure has also had
a few choice words
to say about Un-Carrier in the past, having implied that the package isn't as good as Legere and co like to make out.
But the numbers don't lie, and while T-Mobile continues to promote more flexible, less price-heavy offers, consumers will inevitably take the bait. Indeed, if the $120 family package from T-Mo takes your fancy, you can find more details at the source.
Do move quickly, though, as it's only going to run for a short time before disappearing again.