More of the same: T-Mobile to continue to outpace AT&T, Sprint, and Verizon in subscriber growth
59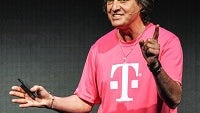 Now that the first three months of 2015 are behind us, we will begin to see reports from the carriers about their financial growth (or not) as well as their subscriber growth (or not).
T-Mobile, who for the better part of the past two years has been outperforming the rest of the US market combined, is expected to continue posting subscriber growth numbers that cast a shadow upon the other three national carriers.
For the first quarter of this year however, not only is T-Mobile probably going to report additions of about a million customers, but expectations are that we will see negative "handset adds from the other carriers," according to analysis by Wells Fargo.
While that makes things look all bright and shiny for Team Magenta, this growth is coming at a cost. T-Mobile has been relentless with its Un-carrier campaign, but with each new promotion, from Data Stash to the recent "Carrier Freedom" initiative which pays off other carrier device payment plans for up to 10 lines, there is substantial pressure on the carrier's ability to maintain a healthy profit margin. The Wells Fargo analysts have lowered earnings expectations a bit, but no one is sounding any alarms.
Sprint may post very modest additions, but of the 50,000 or so adds, the thinking is that it will be nearly all tablet additions. On the actual customer numbers, Sprint is expected to post a loss again.
AT&T and Verizon are thought to show continued growth with tablets as well, while still adding customers across the board, about 400,000 and 600,000 respectively. For their part, AT&T's and Verizon's churn rates will likely get even lower, a smidgen above 1% each.
All-in-all, it will be more of the same, though a lot of people are interested in what Sprint is planning for the year ahead. This year's first quarter is the fiscal fourth quarter Sprint, so not only will there be details about performance, but plans for capital expenditures on its network and other plans that are very important to Sprint's future.
source:
FierceWireless