T-Mobile myTouch 3G & G1 given some extra speed juice
This article contains unofficial information.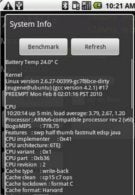 Never count any phone out when you see all these new handsets easily running applications thanks to their lightning quick Snapdragon processors. The two pioneering handsets in the Android explosion here in the US, the T-Mobile G1 and myTouch 3G, are revving up their engines to get some much needed speed into their wheels. Apparently there is one owner out there that has managed to overclock the processors on both devices to keep it up to the same level as some of their newer counterparts. If you assumed that the top speed of 528MHz was all it could dish out, then you'll be impressed by the 628MHz this one owner managed to get it to run at – it's quite stable at that rate too. Turning up the heat even more, he managed to get it to max out at a mind boggling 780MHz – it's the threshold that the CPU can handle on battery power. So never count out these two devices that paved the way for Android's explosion.
source:
AndroidGuys