T-Mobile may announce iPhone next week
44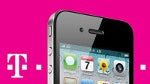 It looks like the wait may be almost over, and the iPhone could be hitting the final major American mobile carrier soon. Word has it that T-Mobile may be announcing an official release of the iPhone as soon as next week. At this point, this is still all a rumor though, and nothing is officially confirmed.
Basically, the rumor mill is starting to move faster, which is leading some to believe that T-Mobile may announce the release date of an official iPhone as soon as next week. According to Merrill Lynch's Scott Craig, "speculation is heightening", which of course doesn't really mean anything, but people will get excited anyway.
Of course, the big question is what consumers should expect from a T-Mobile iPhone. The iPhone as is cannot use the T-Mobile 3G network, because the iPhone isn't compatible with T-Mobile's 1700Mhz and 2100Mhz bands, which are used for HSPA+.
Right now, there are only 10 markets where iPhone users will get HSPA+ speeds on T-Mobile because the carrier has only rolled out the
1900Mhz
HSPA+ compatibility in a few markets, and has not yet launched its LTE network. It's hard to believe that Apple is currently building a new iPhone variant specifically for T-Mobile. So, will customers get anything better than EDGE speeds?