T-Mobile launches $4000 a day trivia game, plus the weekly chance to win an Audi Q5
62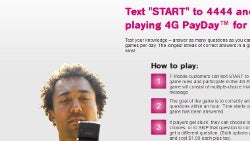 T-Mobile's marketing department has gotten all Ogilvy on us, and used its creative powers to come up with the
4G Pay Day game
that involves $4000 daily giveaways, and the grand weekly prize of an Audi Q5.
As usual with these games, it is
text-message based
, and requires you to send the most answers to a trivia game within an hour you are capable of, and then hope the others didn't know as much, or were just slower.
What you need to do is text "Start" to 4444, and start watching your monthly bill mushroom to horizons you've never deemed possible, unless you got unlimited texting, of course, but then you still have to pay a dollar for each hint or skipping a question. Here are the simple rules:
Starting today, T-Mobile customers can text START to 4444 to review and accept the game rules and participate in the 4G PayDay mobile trivia contest. The game will consist of multiple-choice trivia questions delivered via text message.

The goal of the game is to correctly answer the most consecutive questions within an hour.
If players get stuck, they can choose to get a HINT to narrow their choices, or to SKIP that question to continue their winning streak and get a different question. (Both options are limited to three per game and cost $1.00 each plus tax).
The game ends with one incorrect answer or by reaching the one-hour time limit. Each player can participate in three games per day.
The player with the most consecutive correct answers in one game each day will win the daily $4,000 prize. The weekly Audi Q5 vehicle winner is determined by the most consecutive correct answers in a single game for the week. In the event of a tie, the most consecutive answers in the shortest amount of time will be declared the winner.
Are you fond of these types of carrier games aiming to pad the bottomline? Then let us know if you managed to score that Audi Q5 smooth ride. The T-Mobile 4G Pay Day game starts today, and will run until October 2nd.
source:
T-Mobile
via
T-MoNews
Recommended Stories