T-Mobile in talks with Clearwire to buy some of the latter's spectrum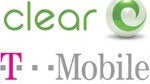 Goldman Sachs analyst Jason Armstrong says that he has met with high-level Sprint officials who told him that Sprint is open for a deal between T-Mobile and Clearwire for some of the latter's network. If that does happen, then the US fourth-largest carrier would support both network standards - CDMA and GSM.
After meeting with Dan Hesse and Bob Brust, CEO and CFO of Sprint, respectively, he said that:
"Sprint would support a T-Mobile equity infusion into Clearwire. (They) ...have encouraged a wholesale deal."
This report confirms previous rumours that Clearwire may
sell some of its spectrum
and that
T-Mobile
is likely to be interested. Clearwire is facing
an uphill battle
to stay in the business and Sprint, the carrier that owns 54% of the former, doesn't seem keen to invest more money.
If this actually happens, how much of a game-changer is it going to be? Can this be a turning point where T-Mobile really becomes the carrier to watch, rather than, say, Verizon or AT&T? Tell us with your comments now.
source:
Business Week