T-Mobile hints at raising the 5GB soft cap on its unlimited data plan
5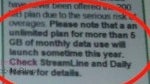 Currently the 4th largest carrier in the US offers unlimited data plan that throttles down your speeds when you hit a
5GB
soft cap on monthly usage.
It's a tried and true practice that many carriers worldwide employ. To fight with the big guns, though, which are rolling out LTE (Verizon) and HSPA+/ LTE (AT&T) like there is no tomorrow, one has to differentiate with value, right?
After the rumors that T-Mobile is
lowering the prices
of its Even More plans, now the carrier hints at changing or removing that 5GB soft data cap in a training leaflet for its reps too. It states that "
unlimited plan for more than 5GB monthly data use will be launched sometime this year
".
Make of it what you will, but it seems that T-Mo is either raising the cap (more likely), or removing it altogether.
source:
T-MoNews