T-Mobile customer has his account name changed to "IDIOT IDIOT" after a dispute
14
T-Mobile is arguably the most customer friendly of the four major carriers. Yet, one might say that there are some cracks in the facade. Not too long ago, some former employees revealed that T-Mobile reps are under so much pressure to hit certain sales targets, that
some allegedly resorted to signing up new customers for certain extras that they did not ask for
. Now, a new incident is being looked at by T-Mobile executives all the way up to president and CEO John Legere.
Apparently, a gentleman by the name of Luke had taken advantage of T-Mobile's
Apple iPhone 7
trade-in promotion. He surrendered his
Apple iPhone 6s
, received his iPhone 7, and waited the required two to three months to start receiving the bill credits that would reimburse him for his new iPhone. But when the credits still didn't show up, Luke called T-Mobile customer service where he was told that he hadn't purchased the iPhone 7 until October 7th, which was an "alternative fact." In other words, that was not true as Luke had made his purchase on September 9th. The customer service rep informed Luke that it would take 7 to 10 business days to correct the problem.

A T-Mobile customer is called IDIOT, IDIOT on his online T-Mobile account following a dispute
The next day, when Luke signed on to his T-Mobile account, he saw the word "IDIOT" at the top of the screen. At first, Luke thought that it was a simple error since he lives in Illinois where the transportation department is often abbreviated as IDOT. But after digging a little deeper, he found that someone had written "IDIOT, IDIOT" as his nickname on the profile settings.
A tweet from John Legere indicates that the nation's third largest carrier is investigating the matter. And as usual with this type of thing, a number of T-Mobile customers suddenly came out of the wood works complaining about various problems they are experiencing with the wireless operator's customer service.
In a highly competitive landscape such as the U.S. wireless industry, perceptions can play a huge part in maintaining a company's success. Obviously, it would behoove T-Mobile to get to the bottom of this immediately, and reassure consumers that the employee involved has been "terminated."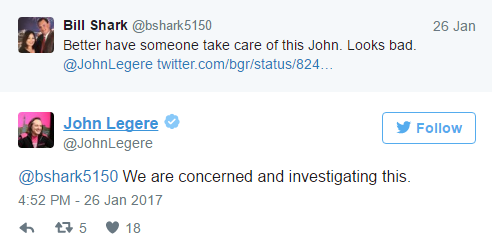 T-Mobile CEO John Legere is investigating the matter
source:
@BGR