NTT DoCoMo is promoting the benefits of VoLTE with some new videos, soon to be introduced in Japan
3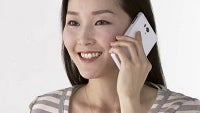 While we have been hearing a lot about voice-over-LTE (VoLTE), and the benefits it brings to the carriers, the consumer benefits are not always easy to describe. Someone may mention HD voice, but not really know what that sounds like.
Basically, with VoLTE, the network treats your voice like data. That means that calls will get executed faster, hand-offs between cell sites will be easier, and overall, you should see subtle, but noticeable improvements in service.
For the carriers, it means not having to dedicate channels of spectrum for a voice call in a circuit switch fashion, as is the case in the US were the calls are still carried on carriers' incumbent 2G or 3G networks.
NTT DoCoMo in Japan,
much like AT&T here in the United States
, is getting ready to rollout VoLTE, and it is letting its customers know with some easy to understand videos highlighting the advantages. While everything is in Japanese, it is not difficult to understand what is being promoted.
The first video highlights the first improvement NTT customers will notice, voice quality. In the before and after sound quality as the woman says, "Hello, how are you? See you again!" In addition to seeing the sound frequency graph show the distinction, you will also notice that she was using two different handsets, meaning that just like in the US, taking advantage of VoLTE will mean an equipment upgrade. The difference in voice quality though is representative of what we have heard in HD voice calls over a mobile network.
The second video showcases how much faster a call is able to connect after hitting the "send" button. The VoLTE handsets beat the HSPA connected devices by 5 seconds. The third video shares how much faster it will be to make a voice-inquiry to locate an appointment on the map.
The fourth and final video shows off a seamless transition from a voice call to a video call. Following the woman showing off her new earrings, she then invites the guy to go shopping with her the next time.
In all videos, the two VoLTE compatible devices being used are the Sharp Aquos Zeta or the
Sony Xperia Z2
. In addition to those two devices however, NTT DoCoMo has a couple more VoLTE capable smartphones lined up, the
Samsung Galaxy S5
, and the Fujitsu Arrows NX.
While this may not reflect how AT&T will provision VoLTE in the coming weeks, it is a window of what we should be able to expect in the US and in other markets as VoLTE becomes widely available.