T-Mobile collects record 100K registrations for the Samsung Galaxy S5
65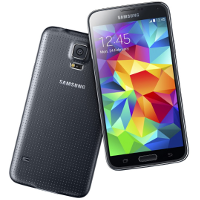 A tweet from T-Mobile's CMO Mike Sievert, shows how popular the
Samsung Galaxy S5
is. The carrier had put up a registration page where those interested in the phone could leave information, including an email address, and receive news when the flagship model is ready for pre-orders. After two days, the carrier has racked up 100,000 registrations for the handset. For T-Mobile, that is a record number of registrations after such a short time period.
Of course, not everyone interested in the Samsung Galaxy S5 registered, and not all of those who did will end up buying the unit. But it does show that interest in the model remains high. Some call it an evolutionary rather than revolutionary change. Some, though, will point to the fingerprint scanner embedded in the home button, the heart rate monitor and the IP67 certification as new features available on the phone. The latter means that the phone is waterproof.
We expect to see the Samsung Galaxy S5 launched on April 11th. Of course, there is no subsidizing pricing for T-Mobile customers, so we will have to await further word from the carrier as to how much they plan on charging for the phone.

T-Mobile gets 100,000 people to register for the Samsung Galaxy S5
source: @SievertMike