T-Mobile celebrates May the Fourth with AT&T Death Star Chrome extension
12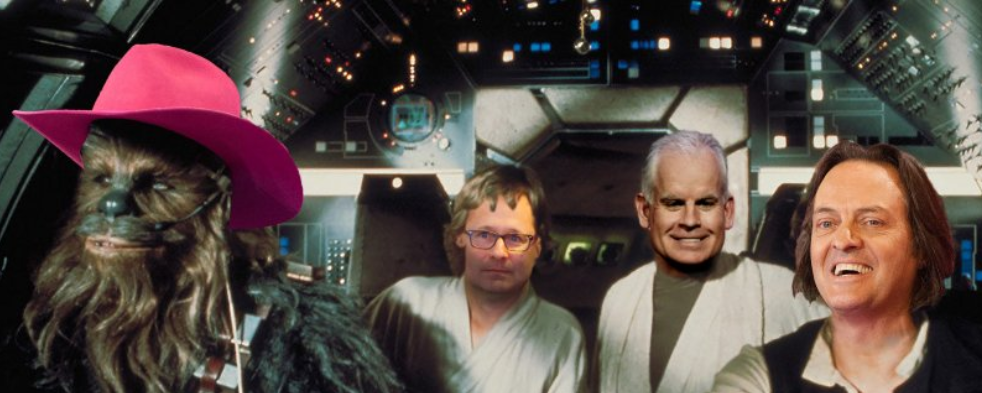 From left to right, CFO Braxton Carter's hat, COO Mike Sievert, CTO Neville Ray and CEO John Legere
T-Mobile and John Legere have done a lot of wacky things in the past, but this just might take the cake. As we write this on the east coast of the U.S., it is currently May 4th, also known by Star Wars fans as "May the Fourth" day as in "May the Fourth be with you." And if you're a regular PhoneArena reader, you probably know that T-Mobile CEO John Legere refers to AT&T as the Death Star because of the carrier's logo.
Now here is the creative part. T-Mobile has created a Chrome extension that you can add to your desktop or laptop version of Chrome by going to the sourcelink. With the extension, every printed reference to AT&T changes the name of the company to "The DeATTh Star" with a small Death Star icon right next to it. Heck, it even works on AT&T's own website and Twitter page!
T-Mobile also sent out some pictures showing the carrier's executives as Star Wars characters. CEO John Legere is Han Solo, COO Mike Sievert is Luke Skywalker, CTO Neville Ray portrays Obi-Wan Kenobi and the magenta hat belonging to CFO Braxton Carter is on top of Chewbacca's head. We're somewhat surprised that Legere didn't have one of his favorite targets portray Jar Jar Binks.
By the way, the Force might really be with you. Legere is telling those who use the extension to post some screenshots on social media with the hashtag #DeATThStar. The executive hinted that he might be giving away some freebies, so if you follow those instructions, you might find yourself the beneficiary of T-Mobile's largesse.
source:
T-Mobile
via
TmoNews