T-Mobile September/October roadmap leaked
7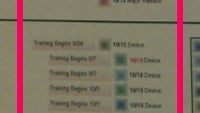 A
leaked roadmap
usually brings plenty of excitement with tons of devices confirmed and some new ones revealed, but while this particular one doesn't reveal anything but the launch dates for upcoming gizmos on T-Mobile, there are a couple of guesses we can take.
First is the
T-Mobile Samsung Galaxy S II
. We've already spent some time
ogling the T-Mobile S II
, but we couldn't exactly get our hands on it - Samsung didn't allow the media to play with it and some reports suggest that it's because of a different chip used on it. Nonetheless, with its
huge 4.52" display
, we look forward to seeing it at the end of October. That's the exact time when we expect to see the 1.5GHz dual-core powerhouse known as the
HTC Amaze 4G
, aka the HTC Ruby, and one more device, most probably a tablet. Still, there's a mid-October major release, so hopefully that means that we get to see the either the Amaze 4G or the S II a bit earlier than planned.
September
is not going to have that many new announcements, but the
BlackBerry 9360
is one we expect to see hit the fourth-largest carrier sometime around then.
There are a couple of lower-end devices coming along as well, so you don't suffer from lack of options. Do your guesses coincide with ours?