T-Mobile CEO Legere takes advantage of AT&T's poor customer service to troll his favorite target
50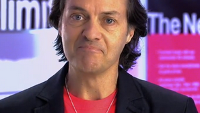 To T-Mobile CEO John Legere, AT&T's Chairman and CEO Randall Stephenson, is the epitome of what's wrong with the mobile industry. The always polished Stephenson might be considered the anti-Legere. Over the last few years,
AT&T has been Legere's favorite target
, and a recent incident involving a long-time AT&T subscriber won't make the T-Mobile executive feel any differently.
According to the
L.A. Times
, 35-year old Alfred Valrie received a letter from an AT&T lawyer. What did Valrie do to deserve such attention? He merely sent an email to Randall Stephenson with two suggestions on how to improve customer satisfaction. In the email, he suggested that AT&T offer unlimited data for DSL users, and 1,000 text messages for $10 a month.
AT&T CEO Stephenson, upon receiving the email, referred it to AT&T's legal department, which is where the company went wrong. Thomas A. Restaino, chief intellectual property counsel, was given the task of sending out the letter received by Valrie. Of course, the lawyer thanked Valrie for being an AT&T customer (we probably should have told you right off the bat that he not only uses AT&T's wireless service, he also pays for AT&T's home phone, internet and satellite services), but quickly changed the tone of the missive.
"
AT&T has a policy of not entertaining unsolicited offers to adopt, analyze, develop, license or purchase third-party intellectual property ... from members of the general public
," the letter said. "
Therefore, we respectfully decline to consider your suggestion
." Company spokesman Georgia Taylor explained the reason for AT&T's response. "
In the past, we've had customers send us unsolicited ideas and then later threaten to take legal action, claiming we stole their ideas. That's why our responses have been a bit formal and legalistic. It's so we can protect ourselves
."
To T-Mobile's Legere, a situation where a long-time customer from another carrier gets spanked is like blood in the water for a shark. A master of public relations, marketing, and yes, customer service, Legere saw a giant opportunity to do what he does best. So T-Mobile issued a press release to announce that it was accepting ideas from AT&T customers at the email address IdeasforRandall@t-mobile.com. Or, ideas can be tweeted to #IdeasforRandall. According to the release, T-Mobile will keep all of the great ideas, and send Stephenson and his lawyers all of the suggestions that T-Mobile has already fixed.
"This whole Un-carrier revolution began by listening to customers. It's where we get our best ideas. It boggles my mind that Randall would tell a lifelong customer to basically go away and talk to his lawyers. I interact with customers on a daily basis so I can hear their ideas first hand. It's called living in the 21st century."-John Legere, CEO, T-Mobile
Will AT&T respond and risk escalating the situation, or will it hope that this all just goes away?
source:
LATimes
, T-Mobile