Swype comes to Android as well
This article contains unofficial information.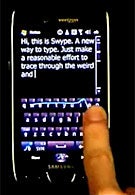 Yesterday
we reported
that the latest text entry method specifically developed for touch screens,
Swype
, would make its début on the Samsung Omnia II in the US and quite soon, on December 2. Now the rumor has it an Android-based handset featuring Swype will hit the shelves sometime next year. At this time, it seems the new entry method will be "hardwired" into cell phones, meaning they will either natively support it or not and you won´t be able to install it on your device in the latter case. Still, we do hope that its developers will find a way to release it as a standalone application, OS patch, software add-on etc. and it will appear at online application stores sooner or later. And if for whatever reason they can´t or are unwilling to, hackers will surely love to give it a go.
source:
TechCrunch