Swype to make its debut with the US version of the Samsung Omnia II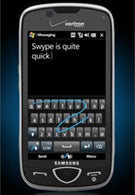 Swype was first introduced at the last year´s TechCrunch50 and made everyone there feel downright ecstatic. Its inventors are two quite famous guys - Randy Marsden, creator of the screen QWERTY of Windows Mobile and Cliff Kushler of the very same team that gave is the T9 technology. According to them, Swype will "change how the world inputs text on screens". This is a new entry method that allows people to get the right letter for the word they need by simply dragging a finger or stylus against the screen. Using Swype looks quite fast and easy, plus there is an integrated spell checker that corrects, suggests, inserts words etc. We do advise you to take a look at the embedded video to get a better idea of what it´s about.
Swype is making its début on December 2 on the Samsung Omnia II that will roll out through Verizon and be the first cell phone to feature the new text entry function worldwide. We just cannot wait to see it in action ourselves.
Samsung Omnia II i920 Specifications
source:
Tech Crunch