Swiftkey unveils branded keyboard themes, Frozen is first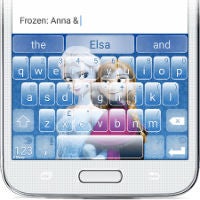 About six months ago, SwiftKey opened up a special store for premium custom keyboard themes, and has been offering some good stuff through that store ever since, including some special holiday themes. Now, the premium store is expanding to include new branded keyboard themes, and the first one to be offered is from one of the biggest brands in the world - Disney.
The branded themes will be available starting at 12pm EST (9am PST) today, and will include six Frozen themes, because people love that movie and just can't let it go. Each theme will cost $1.99, or you can buy the whole pack of six for $4.99. We don't yet know what other branded themes will be on the way, but we do know that they will be able to feature custom keyboard backgrounds as well as custom "Flow" trails that follow your finger as you use swipe gesture typing. For example, with the Frozen themes, the "flow" trail will be snow that melts away as you type.
Right now, the custom keyboard themes are Android-only, but SwiftKey says that they will come to iOS eventually. SwiftKey has also said that it is "actively engaged" in securing more brand partners for the theme packs.