Swiftkey, Swype and Fleksy are already working on QWERTY keyboards for iOS 8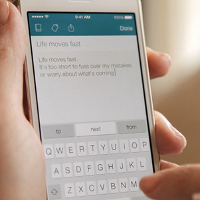 Now that
Apple has opened up the QWERTY keyboard on iOS 8
, a trio of third party QWERTY developers are in various stages of finishing their offerings for the next build of Apple's mobile OS. Highly regarded
Fleksy
, which was
just used by Marcel Fernandes to break the Guinness Book of World Records
for "fastest texting on a touch-screen mobile phone," is taking names for a Beta program. The company says that it will be one of the first to offer a keyboard for iOS 8.
Meanwhile,
SwiftKey
, usually one of the top paid apps in the Google Play Store year in and year out, says that it has already started porting its virtual QWERTY to iOS.
Swype
, the swipe to type keyboard that is pre-installed on many Android handsets, says that it "
can't wait
" to have a version of its keyboard available for iOS 8.
"We're delighted Apple has decided to embrace the importance of opening its platform to third party keyboards. For more than four years, SwiftKey and our millions of users have pioneered faster, easier typing on touchscreens, leading the industry with next-word prediction and smarter autocorrection. Our technology features on more than 200 million devices to date and we can't wait to reach more. We first brought a taste of our technology to iOS in January this year with the launch of the free note-taking app SwiftKey Note. Are we going to build SwiftKey Keyboard for iOS 8? Of course we are. We've already started."-SwiftKey
Those Apple iPhone and Apple iPad users who aren't planning on installing iOS 8 until it is ready for everyone this fall, have some time to do research on third party QWERTY keyboards to see if there is one in particular they like best. Of course, that will probably entail having to find Android sportin' friends that happen to use Flesky, SwiftKey and/or Swype.
source:
Flesky
,
SwiftKey
via
Engadget