SwiftKey 4 now available in Google Play, features gesture based SwiftKey Flow
9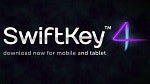 The wildly successful SwiftKey keyboard for Android tablets and handsets has just been updated with some pretty neat enhancements.
The highlight of this new release is SwiftKey Flow, a gesture input method akin to Swype. The difference of course is that it also incorporates SwiftKey's well known word prediction. On top of that, you can also "flow through space," meaning that you can gesture input multiple words without lifting your finger off the screen.
SwiftKey says that it has enhanced the prediction engine and made the learning mechanism more thorough so it learns your language(s) and typing style even better. Corrections are made easier by just tapping anywhere on a word if you want to pick an alternative.
SwiftKey now supports 60 languages, adding Albanian, Bosnian, Javanese, Sudanese, Thai and Vietnamese to the mix. You can have up to three languages active while you type as well. If you have the previous version of SwiftKey, you should be upgrade to the new version for free. There is a version available for smartphones and tablets and is available for only $1.99 (for now). Check out the screen images and video below. If you have been a big user of gesture input on your Android device, SwiftKey looks ready to accommodate you with all the good things the keyboard app provides. Link to SwiftKey for
smartphones in Google Play here
. If you want to check it out for your Android
tablet, link to Google Play here
.
via:
GSMArena
Recommended Stories