Sweet Drmzzz is a new and delightful arcade/puzzle mashup, now go and get those space worms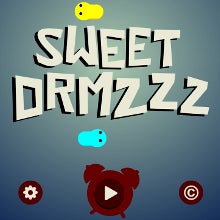 Sweet Drmzzz is a fun new arcader for iOS and Android devices, which takes a hint from many glorious arcade hits before it for a very intriguing mix that will leave you entertained for hours on end. Priced at a buck, Sweet Drmzzz lets you hop inside of an old-school alarm clock, and navigate through a dream universe created in someone's pretty bizarre imagination.
If its sounds weird, it's because it is, and your rounded character can float its alarm clock space ship through hurdles and narrow paths, on the way to get those lazy space worms. Sweet Drmzzz is actually a mix of a good ol' arcade experience, and a puzzle game, created by Bart Bonte, an independent game designer that is behind such cult hits like Furiosity and Factory Balls. Check out the gameplay below, and hit the source links if you are interested.