Super Stickman Golf gets an awesome sequel
1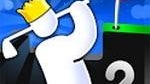 Super Stickman Golf (SSG) was one of our favorite mobile games, and developer Noodlecake Studios has been good enough to make a sequel for both iOS and Android. The idea of the game is pretty simple: you are a stickman, and you play golf in some ridiculous stages with strange power-ups, like sticky balls, or nitro boosts.
Everything about the sequel has been redone, and the new features seem pretty well thought out. The visuals have been upgraded, adding subtle detail and animations throughout the game, but still holding on to the style of the original. The courses are also now "dynamic", meaning obstacles and bonuses can move around so it's not just a matter of mastering how to get through a course, but getting better at the game itself. There is a new multiplayer option so you can challenge players around the world to a turn-based match. And, there are also now hats.
The hats gets us into the customization options. The original SSG gave you "bucks" for achievements, which could then used to buy power-ups, and this system has been expanded in SSG2 to a more complex microtransaction system. In SSG2, you can customize your golfer with different characters and hats. The hats offer different kinds of power-ups and can either be unlocked by playing the game, or by spending your "bucks" on a Hat Lottery. Additional "bucks" and specific power-ups can be purchased with real money through in-app payments.
It all works well, and we always love a game that doesn't force microtransactions. If you want, you can play the whole game and never pay anything, just unlock options by playing. But, if you want certain things faster, or if you just want to support the developer, you can spend a couple dollars on some in-app purchases. (Although there has been some talk that multiplayer in iOS requires a purchase. Can anyone confirm that for us?)