Super Monkey Ball 2 Sakura Edition hands-on
1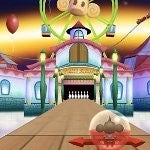 Earlier today, as
we've reported
, the long awaited Sega title in
Super Monkey Ball 2: Sakura Edition
, has been released for Android. No kidding, there's a lot of fun to be found with this addictive and simplistic game title, especially when it's on sale right now for a mere
99 cents
. With that, we just couldn't wait to check out what it has to offer.
For those not familiar with the premise of Super Monkey Ball, you essentially control any of the four monkeys in the game while getting from point A to point B – and that's it folks! Of course, it's not that easy per se, as various obstacles and objects can get in the way, though, we're sometimes tempted to pick up as many of the bananas littered around each stage. In order to control our character, the game relies on the handset's
accelerometer
to move the monkey. At first, there's a
learning curve
to get a feel for the game's movement, but thanks to the on-screen calibration tool placed in the lower left of the screen, we're able to carefully monitor our movements.
Accompanying the addictive game play, the graphics with Super Monkey Ball 2 is pretty
tantalizing
with its colorful appearance and 3D worlds. Sure, it's mostly a linear game, but it does cough up some nice looking eye candy along the way. Even better, the handset we're using to play the game, a Samsung Galaxy Note LTE, manages to maintain a fluid operation throughout our playing time. Well, if you're a seasoned professional playing this game, you'll surely appreciate the various mini games thrown in as well – so yeah, this can be yet another time killer for you. Want to see the game in action? Then check out our hands-on video of the game below.