Study indicates Google Glass is just as distracting as texting while driving
26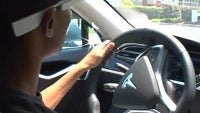 We have shared a number of stories with you about the
dangers of distracted driving
, particularly when that distraction is your smartphone.
While the jury is still out on how wearables will impact such distractions, a study conducted by the University of Central Florida determined that using Google Glass to text while driving is just as distracting as fumbling around with your smartphone in your hand.
A little over a year ago, AAA conducted a study involving
voice-based texting and driving
, and found the distractions to be worse that actually just talking with the phone in your hand. The peer-reviewed University study discovered that drivers using Glasswear were just as slow to react to those using the phone in their hands when it came to braking.
However, those wearing Google Glass were able to return to "normal" driving a bit faster than those using phones in their hands following a traffic incident. When the subjects were using Glass, the study also discovered that the drivers tended to follow the cars ahead of them a lot more closely. Coupled with equally delayed braking, the shorter following distance arguably makes conditions a bit worse.
It boils down to those who concentrate on the task of driving, versus those who choose to multitask, the multitaskers are outperformed by those who put down the phone, and in this case, take off the Glass.
source:
Ars Technica