Study finds Android user loyalty is actually higher than iOS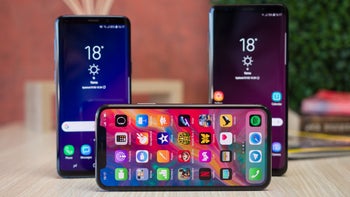 Android users are very loyal to their phones and they are not switching to iPhones as much as you might think. In fact, Android loyalty has remained at a record high 91%, higher than the 86% loyalty rate for iOS users, when measured as percentage of US customers who stayed with their mobile operating system when they upgraded in 2017. The data comes from a new study by analysts from Consumer Intelligence Research Partners (CIRP) and contradicts the usual Apple narrative about unsurpassed brand loyalty.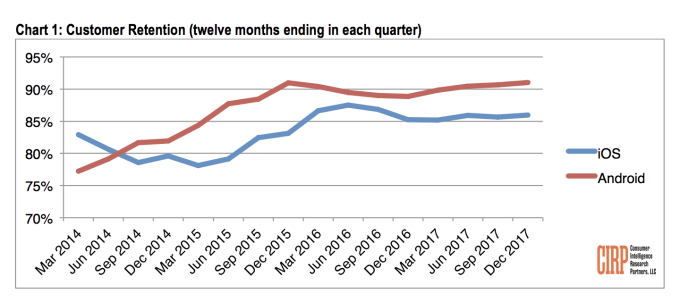 The graph above shows that Android brand loyalty grew in leaps and bounds in 2014 and 2015 to surpass iOS, and then grew at a slight but steady rate throughout 2016 and 2017, to reach the current 91%. iOS brand loyalty, in contrast, dropped significantly throughout most of 2014, right before the launch of the dynamic-changing
iPhone 6
and
iPhone 6 Plus
, and then slowly started crawling back up.
"With only two mobile operating systems at this point, it appears users now pick one, learn it, invest in apps and storage, and stick with it. Now, Apple and Google need to figure out how to sell products and services to these loyal customer bases,"
CIRP co-founder Mark Levin said.
This renewed focus on services and around-the-phone-gadgets has been especially prominent at Apple. The company has successfully launched and grown products like Apple Music, Apple Pay and the App Store, while gadgets like the
Apple Watch
,
AirPods
and
HomePod
are tied closely to the iPhone.
The higher Android loyalty percentage, however, comes with a caveat: the actual number of Android users switching to iOS is higher than the number of users switching from iOS to Android. This is simply due to the fact that Android has a larger base of users. What this also likely means is that in the high-end phone segment, the iPhone still has the lead (you need to look no further than Apple's record quarterly profits to find a proof).
source: Consumer Intelligence Research Partners via
TechCrunch