Student project makes Windows Phone controlled AR.Drone possible
4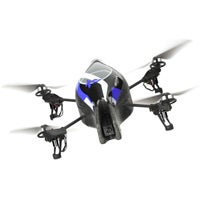 If you've never seen an AR.Drone before, it is a badass, WiFi-enabled, dual-camera, quadcopter that can be controlled by an iPhone, iPod Touch, iPad, or an Android device. One OS missing out on the party in particular is Windows Phone.
If there is any question as to if a Windows Phone has the capabilities to communicate with one of these things, it has been answered. Three students at Texas A&M, John Brock, David Dornier, and Alex Perovich, joined forces for a project to bring the AR.Drone and Windows Phone together at last.
In the video below, you can see that they are able to use a router and a custom app to initialize communication to the AR.Drone. Using their Windows Phone they are able to get the copter to take off, stabilize, and land without incident. In this demo they don't fly the unit around, but they do show that it is, in fact, possible to operate an AR.Drone with a Windows Phone.
Hopefully these guys will continue their work on this project and make it into a full-blown marketplace app. If you're going to drop a couple hundred on an AR.Drone, it's nice to have options.
source:
WMPowerUser