Student develops a capacitor that could charge a cell phone in 30 seconds
44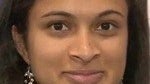 18 year old Eesha Khare of Saratoga, California won the Intel Foundation Young Scientist Award, earning her $50,000 which she will presumably use to further her research while attending Harvard University.
The supercapacitor she has developed may hold the key to recharge a cell phone battery in less than a minute. Amazingly, even at this fledgling stage, the technology already can handle 10,000 charge/re-charge cycles which is 10-times better than most modern day batteries.
Khare's invention is also solid-state which means good things for the need of new technology to be environmentally responsible. So far, the supercapacitor has been used to power LEDs and will also be able to be used in flexible environments like fabrics and bendable displays. The project is titled "Design and Synthesis of Hydrogenated TiO2-Polyaniline Nanorods for Flexible High-Performance Supercapacitors."
She has already had big players like Google reach out to her, though Khare is not revealing the nature of any discussions. Obviously, the applications for this technology will have the potential to touch everything that uses rechargeable batteries, from cell phones to electric cars or razors.
source:
SlashGear