Street Panorama pairs Google Street View with Google Maps for your adventurous pleasure
4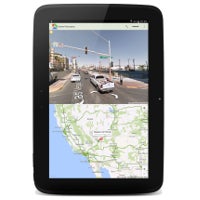 Those familiar with the mobile version of Google Maps are probably aware that it supports the nifty Street View feature, which employs street-level imagery and enables us to "walk" (in a virtual way, that is) on each and every road that Google has had photographed. However, unlike the desktop version of Maps, its mobile iteration does not allow you to view a map of a given area and Street View imagery in split-screen view. The mobile version of Google Earth does not allow you to do this, too.
Enter Street Panorama for Android, an app that takes the best of both worlds and creates a more than adequate mix between Google's Street View and Maps. This app comprises of two screens – the top one being Street View, while the one below it features the map of the location. This allows you to comfortably navigate the map and check out your whereabouts, while Street View will provide you with 360-degree photosphere images of the spot in question simultaneously. You can also hit the "Random" button at any time and it will transport you to a random location across the globe.
We can think of a number of uses of Street Panorama's features – apart from the occasional virtual sightseeing from the couch, the app might undoubtedly come in handy to those who need a quick map check while on the go.
All in all, Street Panorama is one of those simple apps that might surprise you with the way they employ well-known features and functionalities. If you are an avid user of Google Maps, get mesmerized by Street View's features, or occasionally find yourself lost in Google Earth, then you should definitely give Street Panorama a try. The app is available for free, though you can see an ad here or there.
Download: Street Panorama (
Android
)
source:
XDA