Strategy Analytics: Samsung took home 95% of Q1 Android profits
50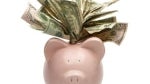 Korean manufacturer Samsung took home
95% of the $5.3 billion
that was made from selling Android handsets in the first quarter of the year. Based on research from Strategy Analytics, Samsung was responsible for $5.1 billion of those profits. The research firm's senior analyst, Woody Oh, credited Samsung for having "
an efficient supply chain, sleek products and crisp marketing,
" which led to their "
impressive
" profits. Fellow Korean handset manufacturer LG was next with 2.5% and "others" made up the remaining 2.7%.
The overall smartphone industry reported
$12.5 billion in sales
during the first quarter, 43% of which was related to Android. And when you break down Android sales even more, you get to see the domination that Samsung has on the platform. Based on numbers from Gartner, Sammy had 30.8% of the smartphone market with 64.7 million units delivered to end users. That's right, we said end users, not shipments.
"Samsung is, for now, the undisputed king of the global Android smartphone industry. We believe Samsung generates more revenue and profit from the Android platform than Google does."-Neil Mawston, executive director, Strategy Analytics
Despite this domination of the Android platform by Samsung, Google CEO Eric Schmidt recently denied that there is any tension between Google and Samsung. Last year, there was some speculation that Google had a fear that Samsung would start dictating standards for Android in the face of strong sales for two Android models, the
Samsung Galaxy S III
and the
Samsung GALAXY Note II
. But the fact that
Samsung introduced a stock Android model
of the
Samsung Galaxy S4
at Google I/O would seem to indicate some level of cooperation between the two still exists.
source:
PCMag