Strange and weird Android commercial features dancing phones
8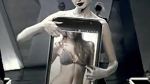 Another strange and weird Android commercial has been making the rounds, and after watching it, you wonder what pharmaceuticals were being used by those involved in writing and filming this spot. Some of the dancing phones are introduced such as the HTC Desire, the Sony Ericsson Xperia X10 and the Samsung Galaxy S. The latter phone
actually pinches and zooms itself
, a neat trick if you can do it.
The ad is for the Korean market and we can tell you that you haven't lived until you have seen the little Android dance at the end of the spot. We wonder what the Koreans think about the commercials that are shown Stateside. After all,
that one Palm Pre ad with the pale looking woman
saying "bing, bing, bing" must have seen as weird to them as this one looks to us. Come to think of it, that Palm Pre spot looked weird and strange to us too!
source:
Google+
via
AndroidCentral