Still wondering if Samsung HomeSync is for you? Samsung details its ease of use and features in new video
5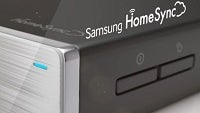 Samsung's new HomeSync hit the
shelves earlier this month
after we got to see it
in action at MWC 2013
back in February. The field of connected set-top boxes and DVRs is very crowded, so Samsung has to make a pretty compelling value proposition for a $299 piece of equipment.
Fortunately, when you are a conglomerate like Samsung, a company that makes nearly everything, this is not an insuperable proposition. Indeed, the folks in Korea probably see this as par for the course.
Now we are not saying HomeSync is not selling, but when your competition is practically giving away similar full featured devices, it is important to know how easy it is to use and what you get for the money. Given that most of the smartphone toting world uses a Samsung device, it is not a bad play.
HomeSync is more than an entertainment hub, it is also your personal cloud. With 1TB of storage, you will have plenty of space to store and share content across multiple devices. You can imagine that if your whole portfolio is Samsung branded, it is really going to hit a home run, though it is compatible with a variety of devices from different manufacturers.
Samsung's new video does not have a lot of flash and whiz-bang production quality to it, but it does show the integration Samsung is building on top of the Android operating system.
source:
Samsung
(YouTube)