Steve Wozniak on new Apple iPads: No, Thanks
46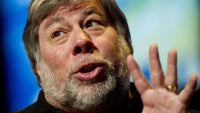 We all know that Steve Wozniak is a gadgets freak.
Regardless if it's a Nokia Lumia 900
or
regrettably an HTC ThunderBolt
, the Apple co-founder and living legend loves to see what's new and if he likes it, he'll buy it. When Apple CEO Tim Cook unveiled the new
Apple iPad Air
and the
Apple iPad mini with Retina display
, Wozniak was on a plane, jetting to the U.K. to make an appearance at Apps World. But that didn't stop him from weighing in on the new tablets after he arrived.
Wozniak says that the new iPads are not for him. Even though the iPad Air is 20% thinner, what Wozniak needs is more storage. Explaining that he does not have broadband at home (!), he carries all of his personal media in the iPad and was hoping for a 256GB model. "
So I emailed my wife and said I didn't want one of those
," said Wozniak.
Time out. Steve Wozniak doesn't have broadband at home? His blames this on his phone company and adds, "
It is really sad as I was the one that had a 1MB line back in the day when everyone else was on dial up. I was the king of the hill
." Makes you feel bad for the guy.
As for the Apple iPad mini with Retina display, Wozniak finds it to be "just a hair too large".
"I was hoping for more storage so I could put every episode of 'Big Bang Theory' on my iPad. So I e-mailed my wife and said, 'nope, I don't want one of those.'"
-Steve Wozniak
source:
TechRadar