Steve Jobs and Bill Gates became close in the end
28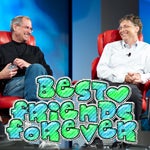 Bill Gates and the late Steve Jobs were titans in the personal computing space. To get to that level generally takes a degree of competitiveness and confidence (read: ego) that can impact your relationships with others in your field. And so it was with Gates and Jobs for much of their careers, although their "complicated relationship" apparently has a happy ending.
The two weren't always at one another's throats – in the early days Apple and Microsoft they frequently worked together on projects, with Bill Gates famously pointing out that at one point Microsoft had more people working on the pre-release Macintosh than Apple did. But as their fortunes followed different paths, they often had less than kind things to say about one another.
Jobs frequently accused Gates of being "
narrow and unimaginative
", and Microsoft of stealing Apple's ideas. Gates on the other hand, once remarked that Jobs was a "weirdly flawed human being." Upon Gates' departure from Microsoft that enmity seems to have subsided, to be replaced with a grudging respect that seems to have flourished into full-fledged friendship by the end.
Just last fall Gates was asked whether he was bothered by some of the quotes in the
Steve Jobs biography
that was published posthumously; Gates indicated no resentment at all, replying "We spurred each other on, even as competitors. None of that bothers me at all." A new report by The Telegraph revealed that Gates wrote a personal letter to Jobs toward the end of his life. While going light on details Gates indicated that he told Steve how much he had to be proud of in his accomplishments, and also discussed Jobs' kids, who Gates had met with on several occasions.
While we may never know exactly what was communicated between the two in the letter, there can be little doubt as to the importance that Steve Jobs placed in it. After Jobs' death, his widow called Gates to let him know that the letter had meant so much to Steve that he'd kept it by his bed as the end drew near.
In this fiercely competitive world of mobile tech, where lawsuits, CEO commentary, and product enthusiasts often create more rancor than constructive dialog, it's nice to know that two of the men who started it all were able to work out their differences before it was too late.
source:
The Telegraph
via
TUAW