Steve Ballmer singing own glory: "we've got the best-looking phones on the market"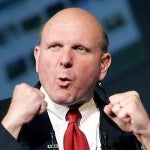 You have heard about Microsoft'seccentric CEO Steve Ballmer, haven't you? Well, what you might havemissed however is his latest statement on Windows Phone 7 devices:
"We've got the best-looking phoneson the market. We've got the greatest range of alternatives,the phones, the software, the craftsmanship. It is as good orbetter than anything out there. We have a lot of work to do. But,we're in the game. We sold 1.5 million into the carriers."
Mr. Ballmer certainly shows someswagger defending Microsoft's less-than-three-month old mobileplatform and accompanying devices, but let's scrutinize his statementand see if it really matches reality. While "best-looking" mightbe a subjective matter, we feel that with just a few devices outthere "the greatest range" claim could easily be disputed.After all there are still no CDMA WP7 handsets and Androidrunning devices outnumber WP7 phones by a good margin. And eventhough Windows Phone 7 is definitely a legitimate contender in the OSrace, we feel that the lack of multi-tasking is hardly "betterthan anything out there."
Well, even if Ballmer's statement mighthave outstretched proportions, 1.5 million devices sold by Microsoft to carriersis definitely a notable achievement. And with some important updates expected in the near future, we canonly hope to see stronger competition in smartphones, which wouldfinally bring even better handsets to us, the users.
source: USA Today via IntoMobile