State Farm app for iOS utilizes the iPhone's sensors to rate your driving
5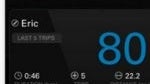 Have you ever come across one of those bumper stickers that simply ask, "How's my driving?" Well, you can always ask a passenger for some instant feedback, but there's an app out there that simply rates your driving habits with a numerical value.
Interestingly enough, insurance provider
State Farm
has an app for iOS that calculates your driving by relying on data provided by your iPhone. Their Driver Feedback app uses the handset's
GPS and accelerometer
to measure things like you braking, cornering, and acceleration habits – thus ultimately coming down with a
numerical score
for you to brag about with your friends.
For those hesitant on using the app, you won't have to worry because State Farm claims that it does nothing more than offering you some insight to your own driving habits – and that they
won't
collect data or adjust your rate depending on your score.
Although there are some services out there that utilize information gathered by specific devices to potentially lower you premium, as long as you're deemed as a safe driver, it'll be interesting to see whether or not insurance providers will branch the service out to other smartphones down the road. Then again, it can do the opposite and actually raise your insurance premium!
source:
State Farm
via
Engadget