Starting tomorrow, MetroPCS subscribers will have protection from scammers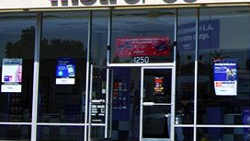 Back in March, T-Mobile introduced two features that
alert subscribers when an incoming call is most likely from a scammer
. With Scam ID, T-Mobile quickly checks the number that a call is from against a list of numbers belonging to known scammers. If there is a match, the screen will read
Scam Likely
and show the incoming phone number underneath. And with Scam Block, a phone can be set to block such calls even before the message hits the screen. Starting tomorrow, Scam ID and Scam Block will be available for free to MetroPCS subscribers.
On July 25th, MetroPCS customers will automatically have Scam ID enabled on their handset. As we mentioned in the above paragraph, this feature determines if an incoming call is a scam and puts a warning up on the screen, along with the phone number belonging to the caller. The subscriber then has the option to take the call or block it. Scam Block, on the other hand, needs to be activated by each MetroPCS customer by dialing #ONB# (#662#). To turn it off, dial #OFB# (#632#). And to check whether Scam Block is on, dial #STS# (#787#).
According to T-Mobile, the nation's third largest carrier has blocked, flagged or identified 243 million calls from scammers since the features were launched for T-Mobile customers. While historically only .2 percent of scammers' calls get through, a study reveals that the typical scam will cost the person picking up the call an average of $274.
Since starting Scam Likely and Scam Block for T-Mobile, the wireless operator has discovered the following:
Scammers enjoy a regular work week. Most scam calls are made during business hours, 8 am ET to 5 pm PT, Monday through Friday.
Weekdays during late afternoon are the peak busy time for scammers—up to 500,000 calls per hour are identified.
Scammers take the weekends easy and make about half as many calls.
Scammers like to keep it fresh. Most scam calls come from one time use numbers. Of over 500,000 uniquely identified scammer phone numbers, only around 24,000 numbers repeatedly make scam calls.
Starting tomorrow, MetroPCS subscribers are protected from scammers who would like nothing more than to stick their hands through the phone and take money out of customers' wallets. For more information, visit the MetroPCS website starting tomorrow (www.metropcs.com/shop/plans), or visit your local MetroPCS store.
source: T-Mobile