Star Wars: Uprising RPG game to debut on Android this fall, serve as prequel to The Force Awakens
13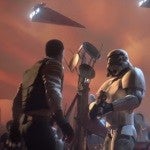 Not having enough Star Wars games to play on your Android device? Fret not, a new one is heading to Google Play this fall! It's called Star Wars: Uprising and it's going to be a role-playing game whose storyline takes place after Episode VI: Return of the Jedi.
Obviously, you won't be seeing much of Darth Vader and Emperor Palpatine here, given that they both met their demise in Ep. VI, but at least the trailer shows the reptilian face of Jabba The Hutt, and it's a face that you know and love... even though Jabba kind of took his last breath by the Sarlaac pit in Episode VI, so it's kind of unclear what he's doing in the trailer. Perhaps not all hutts are Jabba? Anyway! You are also going to visit some familiar places on your intergalactic quest, such as the icy planet Hoth and Bespin, the city in the clouds.
According to the game's creators at Kabam, players will be able to "learn hundreds of abilities" and play through the storyline as a smuggler, bounty hunter, rebel, diplomat, gambler, or their own unique character type. In true RPG fashion, players will have to collect gear and skill sets, put together a team of characters, and engage in real-time co-op battles against the Empire.
Check out the trailer below to get a feel for the new game. There's a strong Clone Wars vibe to it, although the title is actually more of a tie-in to the upcoming movie, The Force Awakens, which will hit theaters in December. Uprising's storyline will effectively bridge Episode VI and VII, so Star Wars maniacs will get a really good opportunity to fill any plot holes.
source:
BusinessWire