Star Wars: Tiny Death Star lets you run your own 8-bit world-destroyer
9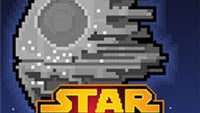 Have you ever wanted to run the Death Star? Let's rephrase that: have you ever wanted to be the business manager of the Death Star and make sure that there were enough workers, people were happy, spending money, and earning money for the Empire? Well, Disney is giving you the option to do just that with
Star Wars: Tiny Death Star
.
Tiny Death Star
puts you in control of an 8-bit version of the world-destroyer. You are given the responsibility of attracting "bitizens" to live and work on the Death Star. Once you attract the individuals (from 30 different species including Ewoks and Wookies), you make sure they have jobs and are generating revenue. That money is put to use building the Death Star where you can build over 80 different kinds of residential and commercial levels.
Beyond that core money-making scheme, this is still the Death Star, so you have to work on building supplies for the Empire's schemes, and you have to catch Rebel spies. All the while, you'll be getting story cut scenes starring well-known characters from the series. You use earn credits by selling products and services, and spend them to build more levels.
Tiny Death Star
is free-to-play, but you can purchase bux which can be used to speed up processes like building and selling. Possibly the best part of the game is that it has launched on the top 3 mobile platforms simultaneously, so you can get it if you are on Android, iOS, or Windows Phone.