Stanford develops a safer, cheaper aluminum-ion battery that recharges in one minute
24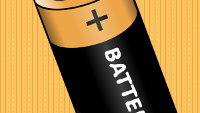 Imagine being able to fully recharge your phone's battery in just one minute. Stanford University researchers have been working on such a invention. Not only does this "high-performance" aluminum battery recharge faster, it also lasts longer and is less expensive. Sounds like a perfect battery for all smartphone users. And unlike lithium-ion batteries, which have been known to explode under certain circumstances, Stanford's battery will not start a fire even if you drill a hole through the center of it.
Stanford University Professor Hongjie Dai has been working on the aluminum-ion battery along with some of his colleagues. The battery is made up of two electrodes. One is a positively charged cathode while the other is a negatively charged anode made of aluminum. This cell combines an aluminum anode and graphite cathode, along with an ionic liquid electrolyte, inside a flexible polymer-coated pouch.
Testing has found that the aluminum-ion cells can handle 7500 recharge cycles without losing any power capacity. That is a huge improvement over the 100 life cycles that aluminum batteries had in previous tests. Lithium-ion batteries typically last for 1000 recharge cycles. And being able to fully recharge the battery in one minute could really help power users get extended usage out of their mobile devices.
The aluminum batteries can bend and fold which will make it easier to design flexible phones. And since aluminum is cheaper than lithium, these batteries are less expensive. The only short coming is that right now they cannot match lithium batteries in terms of voltage. But Dai says that by improving the cathode material, voltage should increase.
"Our battery produces about half the voltage of a typical lithium battery. But improving the cathode material could eventually increase the voltage and energy density. Otherwise, our battery has everything else you'd dream that a battery should have: inexpensive electrodes, good safety, high-speed charging, flexibility and long cycle life. I see this as a new battery in its early days. It's quite exciting."-Hongjie Dai, Professor, Stanford University
It might be some time before these batteries are commercialized, but it sure gives smartphone users something to look forward to.
source:
Stanford
via
PCWorld