Square Enix and MZ to build Final Fantasy XV-themed mobile MMO
3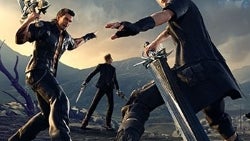 Publisher Square Enix has partnered up with MZ (also known as Machine Zone Games) to build a massively multiplayer online mobile games based on Final Fantasy XV. The launch date hasn't been announced yet, but the console title will be released November 29 for the PS4 and Xbox One. The mobile game will be fully developed by MZ and it will combine Final Fantasy XV's characters, storyline, and soundtrack with the developer's technology that enables massive real-time online multiplayer battles.
"Machine Zone has a stellar track record in the mobile gaming space and we are putting Final Fantasy XV in trustworthy hands,"
reflected Yosuke Matsuda, Square Enix president.
"We are very excited to work with the MZ team to bring together two leaders in the gaming world and look forward to Final Fantasy XV on MZ's amazing gaming platform. We'll work together to create MZ's next great global mobile MMO game."
Successful titles by MZ include MMOs such as Game of War – Fire Age, and Mobile Strike. Both have been ranking at the top in Android and iOS' app stores. The developer is known for making games that run on almost any variation of smartphone hardware and are available in multiple languages, thanks to a translation engine. This is good news for potential players looking forward to try the new game when it's out.