Sprint's Unlimited Kickstart is back, but priced higher at $25 per month
2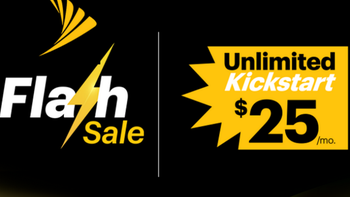 Today, Sprint decided to bring back Unlimited Kickstart, but not before it hiked the monthly price by $10 a month (or 67%) to $25. Available starting tomorrow (August 24th) for a limited time only, the new Unlimited plan is offered online only at www.sprint.com/kickstart. Unlimited Kickstart is for new Sprint customers only, and they are welcome to bring their own phones or purchase a new one from Sprint (no leased handsets with this deal). Signing up for AutoPay is required.
With the service, subscribers receive video streams at 480p (DVD quality), music streams at a peak speed of 500Kbps and games at 2Mbps. Sprint will throttle data speeds at times when wireless traffic is congested. The nation's fourth largest carrier, awaiting regulatory approval to merge with T-Mobile, says that it has the most improved network according to Speedtest developer Ookla and PCMag.
This time around, will Sprint offer Unlimited Kickback for more than a week? We have no idea, so if you are interested in unlimited data for $25 a month, it would behoove you not to procrastinate.
source: Sprint